Let's Read Together – Ch. 55 – The LIVE Roast of Ernest Hemingway
Podcast: Play in new window | Download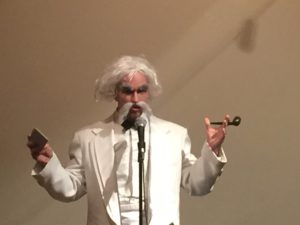 Ch. 55 – The LIVE Roast of Ernest Hemingway
I roasted Ernest Hemingway (and pals) as Mark Twain. My speaking part comes in at about 10:20.
---
Kevin's episode description:
Wow! I can't believe that Let's Read Together has been around for 2 whole years already! Thank you so much to all of you who have listened, reviewed, and subscribed to the podcast.
In 2 years we've released 55 episodes of quality book reviews without ever once reading the book.
To celebrate the 2 year anniversary, I recorded a live episode at Halyards in Brooklyn, NY. We had 20 comedians come in character as their favorite author to roast Ernest Hemingway.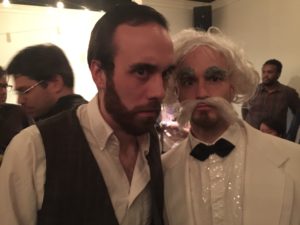 Here's who we have on the dais:
Salman Rushdie (https://twitter.com/nasserthekhan)
Mark Twain (https://twitter.com/jeffymcbride)
Donald Sobol (https://twitter.com/TakeTheConrad)
Jack Kerouac (https://twitter.com/Piccolomeany)
Jane Austen (https://twitter.com/CrappyFumes)
JD Salinger (https://twitter.com/badnewsbergs)
Roald Dahl (https://twitter.com/RyeBreadHere)
James Baldwin (https://twitter.com/CromwellLewis)
David Foster Wallace (https://twitter.com/AmericasComic)
Franz Kafka (https://twitter.com/RiverClegg)
Howard Zinn (https://twitter.com/PtakJokes)
Eckhart Tolle (https://twitter.com/bambifransworth)
Richard Feynman (https://twitter.com/andipalmur)
HP Lovecraft (https://twitter.com/Benel_Germosen)
Stan Lee (https://twitter.com/NotPatReilly)
Dr. Seuss (https://twitter.com/EmilyMcWinter)
Oscar Wilde (https://twitter.com/samzeezy)
Hunter S Thompson (https://twitter.com/BourneBits)
F Scott Fitzgerald (https://twitter.com/MyleswithaY)
Ernest Hemingway (https://twitter.com/KevinFroleiks)
Subscribe today on iTunes: https://itunes.apple.com/us/podcast/lets-read-together-kevin-froleiks/id871331902
You can also subscribe on Stitcher Radio: http://www.stitcher.com/podcast/kevin-froleiks/lets-read-together-with-kevin-froleiks
Follow Let's Read Together on Twitter @LRTpodcast
Like Let's Read Together on Facebook: https://www.facebook.com/letsreadtogetherpodcast
Follow Let's Read Together on tumblr: http://letsreadtogetherpodcast.tumblr.com/
Join the Let's Read Together group on goodreads: https://www.goodreads.com/group/show/132426-let-s-read-together-podcast